NIHR to fund 150 Early Career Grants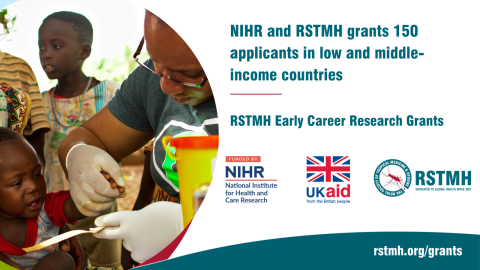 The National Institute for Health and Care Research (NIHR), the research function of the UK Department of Health and Social Care, will fund, using UK aid, around 150 Early Career Grants in 2022.
The Early Career Grants Programme is for applications from early career researchers and global health professionals based anywhere in the world, who have not had research funding in their own name before.
They can apply for a grant of up to £5,000 (GBP) to deliver a project over one year. The projects can be on any topic related to tropical medicine and global health, from across the research spectrum of lab, translation, implementation and policy.
NIHR seeks to fund applied high-quality global health research that directly addresses the diverse health needs of people in low- and middle-income countries.
Through RSTMH, NIHR aims to support early career researchers in LMICs to undertake applied scientific research or fieldwork in global health.
We're pleased to announce that the NIHR Global Health Research programme is partnering for a fourth year running with the Royal Society of Tropical Medicine and Hygiene on their Early Career Grants programme.

RSTMH continues to be catalytic for many early career researchers careers, which makes this partnership a key strand of NIHR's work to develop career pathways in global health research. This year we're increasing our funding contribution to ensure more high quality applicants have the opportunity to develop skills to tackle global health research challenges."


Dr Val Snewin, Head of Global Health Research Partnerships at the Department of Health and Social Care
NIHR has been funding RSTMH Early Career Grants (previously known as Small Grants) since 2019. In the three years from 2019 to 2021, they have funded a total of 296 grants.
These 296 grants have come from 36 low- and middle-income countries, from across Asia, Africa and Latin America. Of these, 45% of grants were awarded to women and 55% to men.
We are delighted that NIHR have confirmed they will be funding around 150 Early Career Grants in 2022. With this funding we are able to support even more people on the first step of their research journey and empower them for future careers in global health and tropical medicine."

Tamar Ghosh, Chief Executive of RSTMH
The deadline to apply was last Friday (29 April) and we have seen 1,914 applications, a record number of applications.
Successful awardees will be subject to NIHR's and RSTMH's terms and conditions.
Grants