One more week to get applications in for an RSTMH small grant
As you may know, we have been lucky to receive additional funding this year from our partners NIHR, Wellcome and ITI and so we hope to be able to fund all quality submissions. These are a great opportunity to test out ideas in the fields of tropical medicine or global health, and for us to be to support the next generation of innovators, implementers, communicators and policy makers.
With a week to go, we ask all our members, Fellows and supporters to help us ensure we are supporting the next generation of innovators by spreading the word about the small grants.
Please find further information about the small grants programme, including our generous partners and the links to make an application through our online platform.
Who can apply?
Anyone early in their career, based anywhere in the world, can apply for a small grant and potentially receive up to £5,000. This will often be the first time they will have submitted a grant application, and then managed their project, budget and reporting.
RSTMH has been providing small grants for some years and we hope they will enable those early in their careers to be able to start to look at an idea or proposition and see if it provides some exciting developments and innovations. We would like to inspire people in clinical, academic, social science, and NGO roles to get involved in the exciting areas of tropical medicine and global health.
What kind of research is valid for small grants?
Small grants can be on any topic in the sector, and you can find more information about this on our website. At this time we are particularly interested to see applications focused on COVID-19 and have also produced a list of potential research ideas from our members and networks.
Applications in number
So far, we have received 318 applications, compared with 674 last year at the final deadline. We understand that COVID-19 may have had an effect on being able to submit applications, so we extended the deadline to 27 April. We hope this new deadline will provide ample time for applications and the two references needed to be uploaded. We are in touch with individual applicants to let them know about their applications and references.
What have we seen so far?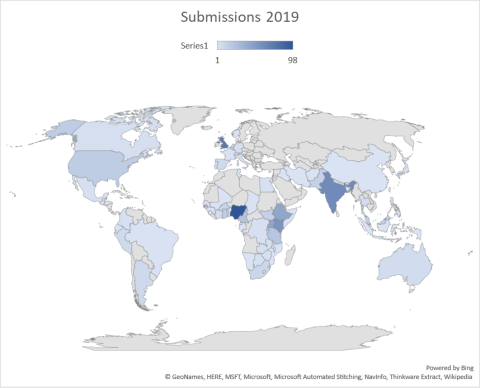 This year we have seen applications from 52 countries, compared with 71 last year.
There are some notable omissions this year compared to last year, including no applications from China, Cuba, Gabon, The Gambia, Indonesia, Lebanon, Namibia, Netherlands, Peru, Somalia and Zimbabwe.
There are also some countries where we have seen far fewer submissions so far compared to last year, including Argentina, Belgium, Ethiopia, India, Malaysia, Nepal, Nigeria, Pakistan, UK and US.
There is still time to go, and the differences may be due to better availability of small grants in countries, but we hope that anyone who has an idea has a chance to explore it.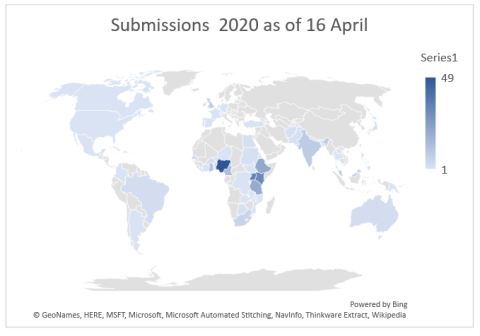 Where do the current applicants work?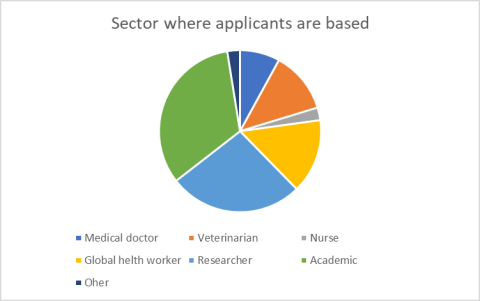 As of last year, we are seeing applications from a wide range of roles. As always, we are keen to see applications from a range of career settings – importantly, anyone working in an aspect of global health including the social sciences, academia, healthcare and NGOs.
Please find further information about the small grants programme, including our generous partners and the links to make an application through our online platform.
Please tamar [dot] ghosh [at] rstmh [dot] org (email me) with any questions about submissions.
Grants Early careers Tamar Ghosh