Professor Abebaw Fekadu appointed as RSTMH Honorary Fellow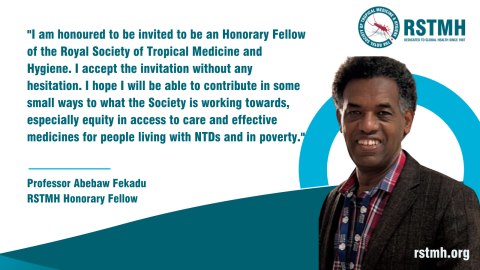 We are delighted to announce Professor Abebaw Fekadu, as our latest annual RSTMH Honorary Fellow.
Our Past President, Professor Gail Davey, said of the appointment:
I'm delighted to nominate Professor Abebaw, a truly inspiring academic psychiatrist and leader in global health. I admire his enormous commitment to supporting the careers of early career researchers and the thought he puts into the research environment in which projects and programmes are contextualised."
Tamar Ghosh, RSTMH Chief Executive, added:
We welcome Professor Abebaw Fekadu to RSTMH as our new Honorary Fellow, recognising his huge achievements in Global Health. We look forward to working with him in the months to come, and in sharing his knowledge with our members, Fellows and networks."
On his appointment, Professor Abebaw said:
I am honoured to be invited to be an Honorary Fellow of the RSTMH. I accept the invitation without any hesitation. I hope I will be able to contribute in some small ways to what the Society is working towards, especially equity in access to care and effective medicines for people living with NTDs and in poverty."
Professor Abebaw Fekadu is professor of psychiatry and global mental health. He leads the Centre for Innovative Drug Development and Therapeutic Trials for Africa (CDT-Africa), a regional medical discovery and development centre of excellence based at Addis Ababa University in Ethiopia.
He is co-director of the WHO Collaborating Centre for Mental Health Research and Capacity Building at the University. He is a member of the UK's Royal College of Psychiatrists, and an elected Fellow of the Ethiopian Academy of Sciences. He received the Ethiopian Public Health Association's Senior Public Health Research award, 'for outstanding contributions…in solving health problems of the country [Ethiopia] through research'.
Abebaw has also received 'the Outstanding Research Achievement Award' in recognition of "his distinguished research achievements" from the Addis Ababa University's College of Health Sciences.
His research expertise relates to service innovations for chronic medical conditions and neglected tropical diseases. He is particularly interested in improving access to treatments for 'diseases of poverty' and in the broader global health equity agenda.