Professor Rosanna Peeling announced as RSTMH Honorary Fellow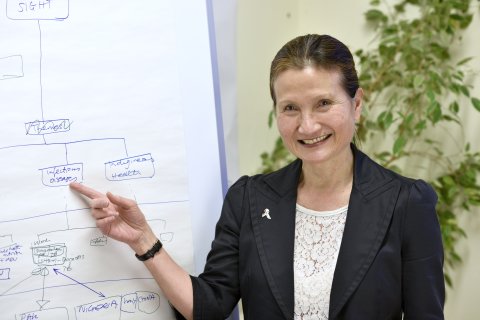 RSTMH is thrilled to announce Professor Rosanna Peeling as our latest Honorary Fellow.
Rosanna Peeling is currently Professor and Chair of Diagnostics Research at the London School of Hygiene & Tropical Medicine (LSHTM) and Director of the International Diagnostics Centre (IDC).
Looking forward to joining RSTMH's efforts to support young researchers
On becoming an Honorary Fellow, Professor Peeling said:
"I am delighted and honoured to be made an Honorary Fellow of the Royal Society of Topical Medicine and Hygiene. I was introduced to the world of tropical medicine when I joined the Special Programme for Research and Training in Tropical Diseases (TDR) in Geneva to conduct research on defining diagnostic needs for neglected tropical diseases and facilitating test development and implementation to ensure appropriate care and treatment.
"The Society's vision to save lives and improve health around the world through increased access and greater equity in global healthcare really resonated with me as I work with colleagues in TDR and later at the London School of Hygiene & Tropical Medicine to find innovative ways to overcome inequity of access to diagnostics so that we can improve care and reach the ultimate goal of disease elimination.
"I owe much of this honour to my colleagues, many of whom are members of RSTMH, for their mentorship and collaboration, and to my husband and sons for their constant encouragement and support even when my work often took me thousands of miles away from home.
"For me the RSTMH has always been the heart of tropical medicine. I am inspired by the Society's extensive outreach to young researchers worldwide and look forward to joining RSTMH's effort to support young researchers so that they can enjoy a rewarding career in tropical medicine."
Unmatched achievements in their field
Trained as a medical microbiologist, Professor Peeling had been Research Coordinator and Head of Diagnostics Research at the UNICEF/UNDP/World Bank/WHO Special Programme on Research and Training in Tropical Diseases (WHO/TDR) in Geneva, Switzerland, and the Chief of the Canadian National Laboratory for Sexually Transmitted Diseases before assuming her current position.
Her work in WHO/TDR focused on the evaluation of diagnostics appropriate for developing countries settings, to inform policy and procurement decisions.
Professor David Mabey, our Past President said:
"After stepping down from the RSTMH Presidency last year, I had the pleasure of extending an invitation to an individual whose achievements and global impact are unmatched in their field to join the Society as an Honorary Fellow.
"Rosanna Peeling has led the way in rigorously evaluating new point of care diagnostic tests for infectious diseases and advocating for harmonised regulatory systems to ensure that those which meet the ASSURED Criteria (being Affordable, Sensitive, Specific, User friendly, Rapid and Robust, Equipment free and Deliverable) can be introduced into clinical practice without delay."
First female recipient of our George Macdonald Medal
Professor Peeling's work at LSHTM spans from facilitating test development and evaluation to translation of evidence to policy, appropriate placement of new diagnostic technologies into different health care settings to ensure maximum impact, and innovation in the uptake of testing by marginalised populations.
She established the IDC to provide a global hub for advocating the value of diagnostics, fostering innovation, and accelerating regulatory approval and access to quality-assured diagnostics to improve global health.
In 2014, she was awarded our George Macdonald Medal for her contributions to tropical medicine, becoming the first woman to receive this honour.
Diagnostics to inform policy
Professor Peeling's work in WHO/TDR focused on the evaluation of diagnostics to inform policy and procurement decisions in developing countries. She has also extensive experience conducting implementation research on the introduction of new diagnostics to ensure optimal uptake and sustainable adoption.
At LSHTM, Professor Peeling established the International Diagnostics Centre with the aims of accelerating access to diagnostics in the developing world through reducing duplication of clinical trials, streamlining regulatory approval and accelerating policy development. In collaboration with WHO/TDR and the University of Hong Kong, Professor Peeling is exploring the use of social innovation to build sustainable models of health service delivery in the developing world.
Professor Peeling joins other RSTMH Honorary Fellows, including Dame Sally Davies, Professor Baron Peter Piot and Sir Jeremy Farrar.
Members