RSTMH announces three-year partnership with Wellcome Trust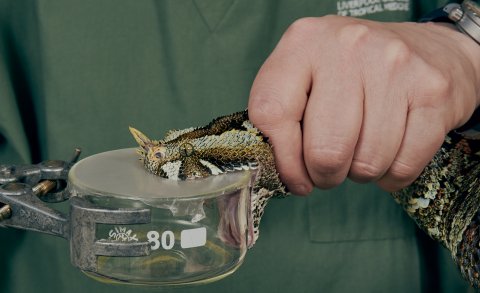 RSTMH is excited to announce a three-year partnership with the Wellcome Trust.
Wellcome is the first partner to have agreed to support our Small Grants Programme over a period of several years.
In 2020, Wellcome came on board to fund ten research grants which focused on snakebite envenoming, which they also replicated for this year's Small Grants Programme. RSTMH has championed snakebite as an area in need of extra funding for some years.
Wellcome's further support for the RSTMH Small Grants Programme will last until 2023. They will support up to ten grants of £5,000 a year for early career researchers who are working on snakebite.
Reducing the burden of snakebites
Dr Diogo Martins, Policy & Advocacy Lead at Wellcome Trust, said:
"With COVID-19, global health has become more prominent than ever. Given the current instability in the global funding landscape for NTDs, it was important for us at Wellcome to reinforce our long-term commitment to building the next generation of research leaders.
"This is why we are proud to announce a multi-year partnership with RSTMH and their Small Grants Scheme, after the tremendous success of our pilot collaboration in 2020.
"Until 2023, we will support a cohort of 30 emerging researchers and thinkers that can help us better understand the problems that communities face and the solutions they need to reduce the burden of snakebites. We sincerely hope that other partners and funders can join us in a reinvigorated commitment to improving global health and tropical medicine."
Developing the next generation of global health researchers
The aim of the Small Grants Programme is to develop the next generation of global health researchers by providing seed funding to enable them to take on a one-year project of research in any area of tropical medicine or global health.
The programme funds projects across the research spectrum, from initial lab-based studies, through translation, implementation, community and policy-related research.
Of the partnership, Tamar Ghosh, RSTMH Chief Executive, said:
"We are extremely grateful to Wellcome for their support. This an important precedent in our work to reach sustainable funding, through partnerships.
"Over the past two years we have increased the number of grants given from 16 to 112, with the conversion of application to award moving from 1:39 to around 1:8. This is a huge improvement and one we hope to consolidate further by working with our partners.
"With so much uncertainty around research funding due to the pandemic, it is crucial that those in the early stages of their careers in global health can access support. A multi-year partnership also demonstrates the viability of the programme and our model of supporting research in the sector."
First opportunities and ideas
RSTMH small grants often represent the first opportunity for those early in their careers to test out an idea and manage their own research project including budgeting, staffing, procurement, and producing reports.
The programme also primes the pipeline of interested health researchers and professionals around the world to be more able to achieve larger awards, enhanced skills and a career boost.
News Grants Snakebite NTDs