RSTMH announces winner of "Global Challenges in Health" photo competition
Today, at the closing ceremony of ECTMIH 2021, RSTMH announced the winner of its joint photo competition with the Congress, entitled: "Global Challenges in Health: Your stories from around the world".
The winner of the contest – "My father is my hero" by Mithail Afrige Chowdhury – was voted for by the attendees of the Congress hosted virtually by the Centre for International Health (CIH) at the University of Bergen (UiB).
Over the last few days, the Congress hosted people from around the world to explore global challenges in health, migration and equity through plenaries, scientific sessions, workshops and symposia.
On winning the competition, Mithail said: ''I am delighted to learn the news that my photograph won the RSTMH and ECTMIH 2021 photo contest. I have been working on my COVID-19 photography project since March 2020.
"I had to take a lot of risk shooting the photographs but when your images get recognition from such reputed organisations it really inspires me to carry on. I would like to congratulate the top ten finalists and also thank the judges and organisers for their effort throughout the competition.''
Applaud the passion for global health
Tamar Ghosh, RSTMH CEO said:
"The 'Global Challenges in Health' photo competition was an opportunity to shed light on all the range of urgent global challenges in health we are currently facing, but also demonstrates the solutions, and the dedication of people engaged in tackling these issues.
"We were delighted by the quality of the images submitted and applaud the passion for global health issues that was displayed.
"Congratulations to everyone to took part, and more specifically to the worthy winner, Mithail Afrige Chowdhury, for his image showing the difficulty of being separated from loved ones, that many have faced during the pandemic."
People and solutions focused
"Global Challenges in Health" was open to all and looked to find the most engaging photographic representation of the work being done to address global challenges in health. These included speeding up access to COVID-19 tests, medicines and vaccines, tackling health inequities, combatting drug resistance and prevent and treating NCDs.
The entries were looked at by a panel of judges and assessed on certain criteria including technique, composition and originality.
Most importantly, perhaps, was the desire to find images that were people-focused, positive and empowering, that portray their subjects in a dignified, non-exploitative way, and are solutions-focused.
Huge range of locations and topics
The entries came from Papa New Guinea to Zambia, Moldova to Colombia. They covered a huge range of topics including rabies, mycetoma, gender equality, sanitation and of course, COVID-19: treatment, testing, prevention and vaccination.
The judges narrowed the entries down to a top ten – in the gallery below. Congress attendees then voted for their favourite through the conference app.
One member of judging panel, Tom Bradley – a freelance photographer specialising in leprosy and NTDs – said:
"It's been wonderful looking at all the submissions, and seeing such a diverse range of stories and moments, many captured so tenderly."
The winning photo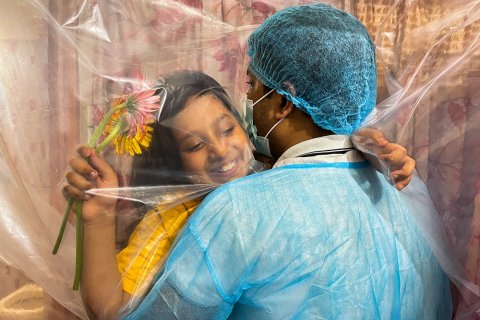 The winning photo shows Nuraine embracing her father, a doctor.
According to the photographer Mithail:
"In the hospital, he is a doctor whose work centres on protecting and caring for his patients. But at home he has another title: dad.
"When he comes home after long hours combatting COVID-19, he has to isolate to keep his family safe. After 14 long days when Nuraine's father has come home, her mother makes a hug curtain by putting a clear plastic curtain between them. At last Nuraine welcomes her father with a bunch of flowers and a warm comforting hug."
The winner takes home a cash prize of 200 Euros and the opportunity to have their image featured on the cover of RSTMH's journal, International Health.