RSTMH Medals and Awards winners 2022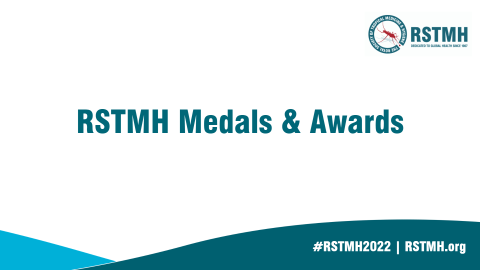 RSTMH has announced the winners of the 2022 Medals and Awards programme at the RSTMH Annual Meeting which was held in Liverpool on 10 – 11 October 2022.
This year, nominations were open for four individual awards. Every year RSTMH gives out a number of medals and awards in recognition of excellence. These Medals and Awards recognise success in a variety of global health areas and for a range of career stages.
"We are absolutely delighted to announce the winners of this year's RSTMH Medals and Awards. They offer us a chance for us to celebrate and reward those who have made a significant contribution to different areas of global health and tropical medicine. This year's winners show the breadth of dedication to global health and we are excited to be able to celebrate their achievements."

Tamar Ghosh, RSTMH Chief Executive
Emerging Leader Award
The winner of this year's Emerging Leader Award was Dr Mian Muhammad Awais, who was nominated by Professor Dr Masood Akhtar. The award recognises significant contributions in leadership, mentoring and capacity building in those who are early in their careers.
Dr Awais is an Associate Professor of Parasitology at Department of Pathobiology, Bahauddin Zakariya University, Pakistan. His research expertise encompasses different aspects of One Health at human-animal-environment interface.
"It's a matter of great honour for me to receive the Emerging Leaders Award from RSTMH which has greatly enhanced my inspiration to work for the well-being of people living in poor socio-economic setups with more zeal and zest."
Dr Mian Muhammad Awais
Chalmers Medal
The winner of this year's Chalmers Medal was Professor John Crump, who was nominated by Professor David Mabey.
The Chalmers Medal recognises researchers in tropical medicine or global health who demonstrate evidence of mentoring and professional development of junior investigators, and other forms of capacity building. The Medal is for those at the mid stage of their career.
Professor John Crump is a Professor of Medicine, Pathology, and Global Health, and Co-Director or the Centre for International Health, at the University of Otago in New Zealand.
"The talents and perspectives of early career researchers around us are remarkable, and among them are those we hope will be central to solving global health problems that we could only dream of. If we helped one on their way, that is good, but we need to keep asking if our mentorship efforts matched their great potential."
Professor John Crump
Sir Patrick Manson Medal
Professor Sir Alimuddin Zumla is the winner of the Sir Patrick Manson Medal, having been nominated by Professor Moses Bockarie.
Only open for nominations every three years, the Sir Patrick Manson Medal is our highest mark of distinction. It is open for senior experts in their field and awarded to the living person whose contribution to any branch of tropical medicine or hygiene is considered by the Board of Trustees to merit the honour most.
Sir Alimuddin (Ali) Zumla is Professor of Infectious Diseases and International Health at University College London. He is dually qualified in Medicine (MB.ChB;MD) and Science (PhD). He serves as honorary Professor at several institutions in Africa, Europe, Asia and the Middle East. He internationally distinguished for initiating and leading major research, training and capacity development multidisciplinary partnerships between Europe, USA, Middle East and sub-Saharan Africa which are focussed on respiratory tract infections and zoonotic emerging and re-emerging infectious diseases with epidemic potential.
Professor Sir Alimuddin Zumla said: "I am absolutely delighted, honoured, and truly humbled to join the illustrious list of previous Manson Medal laureates. I did not make this very successful journey alone, thus I would like to dedicate this prestigious honour to all the amazing, committed people with whom I have had the enormous privilege to work with over the past four decades on a range of research, capacity development, training, advocacy, and charity activities focused on improving the lives and health of poor and disadvantaged populations worldwide."
"The Manson Medal is a subtle but timely reminder that, it is only through hard work and sacrifice, and by "holding hands and moving forward together beyond borders" with "like-minded, selfless, and committed individuals", as a pan-continental ONE-HEALTH family, we will be able to bring killer infectious diseases under control and ensure preparedness for future epidemics."

Professor Sir Alimuddin Zumla
Donald Mackay Medal
The winner of this year's Donald Mackay Medal, awarded in conjunction with the American Society of Tropical Medicine and Hygiene, is Professor Rashida Ferrand. Professor Ferrand was nominated by Professor Liz Corbett.
The Donald Mackay Medal is for outstanding work in tropical health, especially relating to improvements in the health of rural or urban workers in the tropics. It is for those at the mid stage in their career.
Professor Ferrand is Professor of International Health at LSHTM and Wellcome Senior Research Fellow. She has been based in Zimbabwe for the past two decades where she established and directs a research programme that focuses on addressing pressing public health challenges confronting the region.
Her research focuses on HIV and sexual and reproductive health, adolescent health and comorbidities associated with HIV, as well as multimorbidity across the life-course. The programme has a strong emphasis on building research capacity and has developed a pipeline for research training, and currently includes 4 postdoctoral, 17 PhD and 6 MSc fellows. She directs a PhD Programme (CREATE: www.create-phd.org) that will train 25 UK and 25 African fellows in global public health.
"I am honoured to receive the Donald Mackay Medal. It is very much a recognition of the team that I have the privilege to work with and their consistent can-do spirit in the face of any challenging circumstances that arise, and of our national and international collaborators."

Professor Rashida Ferrand