Student Essay Prize Winner 2022 announced
We're happy to announce the winner of our 2022 Student Essay Prize, now in its fourth year.
This 2022 prize focused on the theme of 'health and conflict'. We wanted to hear a personal perspective on the theme.
The student essay competition is for students studying global health as a degree, or any degree with a component of global health or medicine. It is open to current, full-time, students, based anywhere in the world.
Winning essay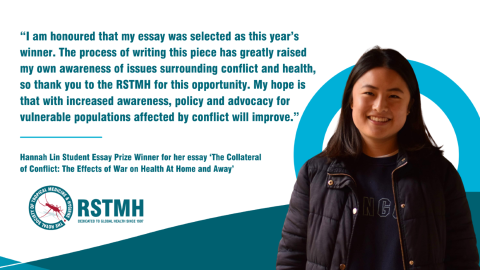 The winning essay was by Hannah Lin for her essay 'The Collateral of Conflict: The Effects of War on Health At Home and Away'.
Hannah is a fifth year medical student at Cambridge University. She has a BA in Genetics, where she researched indole production in E. coli. She is particularly interested in global health policy and inequalities.
Talking about what inspired her to write the essay, Hannah said: "I was inspired to write this essay following a talk I attended last year, where the speaker told the story of her journey to the UK as a refugee from Rwanda. I wanted the essay to reflect the journey of a refugee, by highlighting some of the many difficulties faced in war-torn countries, in refugee camps and in the countries where they end up.
"One main takeaway for me was that policies to aid vulnerable populations are ineffective when awareness is lacking, so I hope that this essay contributes a little towards breaking down barriers for those whose access to healthcare has been affected by conflict."
Second place
Matthew Yarnall was awarded second place for his essay 'Conflict and Neglected Tropical Diseases in the Era of Climate Change'.
Highly commended
The following individuals were awarded highly commended.
Su Myat Han, 'Lives of health care workers being attacked for provision of health care'
Shweta Sharma, 'How Kashmir Conflict has started a "Mental Health Epidemic'
Alexander Reynolds, 'Challenges to paediatric cardiac care during a war: a memoir from Ukraine'
Our Student Essay Prize in an annual award and will open again for applications towards the end of the year.