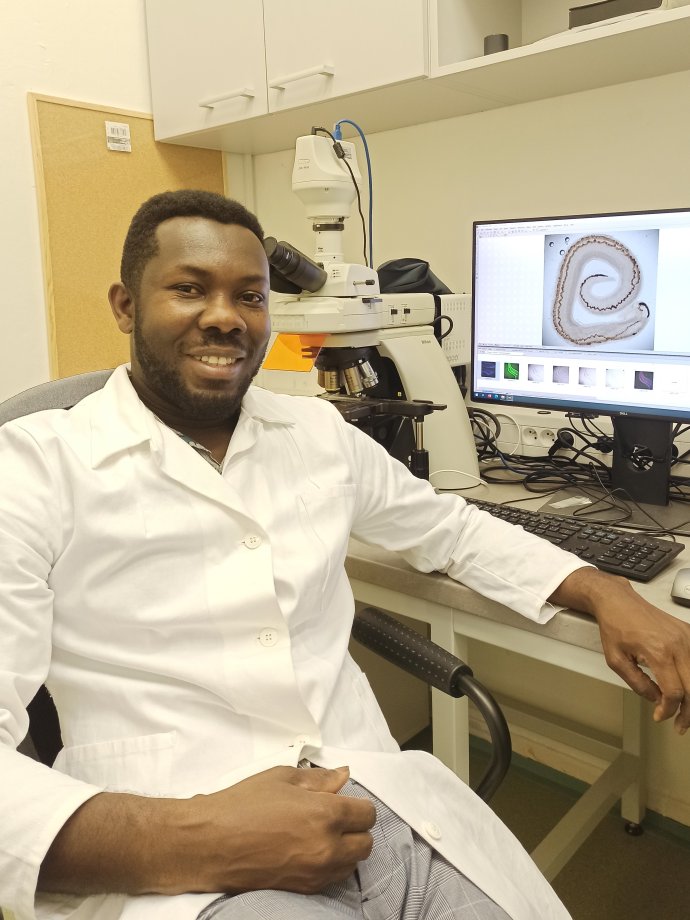 Enoch Mensah Boateng
Enoch Mensah Boateng is a student of doctoral studies in Applied Zoology. His research interest is on peptidases in Platyhelminthes in molecular helminthology lab, department of Zoology and Fisheries, Czech University of Life Sciences in Prague, Czech Republic. He holds a bachelor of science in Agriculture from University of Cape Coast (UCC), Ghana and masters in Natural Resources and Environment from Czech University of Life Science in Prague (CULS).
After his bachelors in Agriculture, Enoch served as a teaching assistant in the School of Agriculture, UCC and later became a fellow of the Czech government scholarship for Ghana. He is also a member of the Czech Society of Parasitologists. His interest is in molecular studies on schistosomiasis using parasitic Schistosoma mansoni model.
His strong interest in schistosomiasis stems from his experience with the disease in the community where he grew up. He saw kids of his age exhibiting symptoms of schistosomiasis caused by Schistosoma haematobium. Knowing the devastating nature and the economic and health loses associated with the disease, he is poised to contribute towards the prevention/elimination of NTDs, which remain a scar on sub-Saharan Africa through science and research.
Czech Republic has experts who are particular about diseases of public health concern and have a good record of accomplishment of supporting research in that regards.
He is humbled to be selected as Student Ambassador of this noble society. He hopes to be a conduit for highlighting the activities of RSTMH towards tropical medicine and general health.