Ascend: Lessons from the programme in West and Central Africa
6 October 2022, 1PM - 5PM BST
Virtual event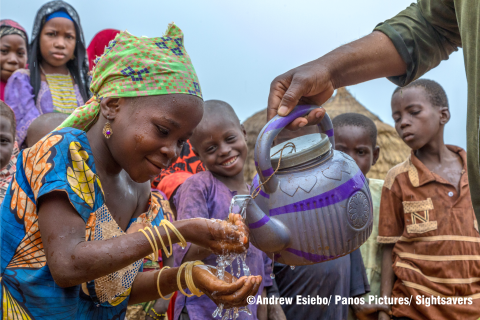 Sightsavers and the Royal Society of Tropical Medicine and Hygiene (RSTMH) are bringing together experts from across the Ascend West and Central Africa programme to share and discuss learnings at an online event on 6 October 2022.
The Ascend programme was UK Aid's flagship initiative to tackle five neglected tropical diseases (NTDs) in 13 countries. This large-scale programme delivered some outstanding achievements during its lifespan, such as unlocking over £653 million worth of additional resources – more than 12 times its initial investment – in the form of drug donations and other in-kind contributions. Ascend also supported river blindness elimination in three states in Nigeria, improved treatment for refugees and internally displaced people, and built health system resilience and capacity to control and eliminate NTDs.
The event will share key findings from the programme which has now been published in RSTMH's journal International Health as a supplement titled, 'Ascend: Lessons from the programme in West and Central Africa'. The research papers in the supplement have been contributed to by various Ascend consortium partners. They look at the impressive impact of the programme and how to build on its success. Read the supplement here.
See the programme below.
If you have any questions about the event, please email Amelia [dot] Fincham [at] RSTMH [dot] org.
Programme
| | |
| --- | --- |
| Session | Time (BST) |
| Opening remarks from RSTMH and Sightsavers | 1:00-1:10 |
| An FCDO introduction to health programming and delivery through health systems strengthening | 1:10-1:20 |
| An overview: how the Ascend programme supported countries on their journey towards elimination | 1:20-1:30 |
| Panel 1: Support to achieve elimination dossier requirements and sustainability post elimination | 1:30-2:10 |
| Break | 2:10-2:20 |
| Panel 2: Taking forward lessons from COVID-19 | 2:20-3:00 |
| Panel 3: Leaving no one behind and equity in the Ascend programme | 3:00-3:40 |
| Break | 3:40-3:50 |
| Panel 4: Strengthening health systems and leveraging resources | 3:50-4:30 |
| Closing panel with RSTMH, FCDO, and Sightsavers on next steps and bigger challenges coming our way | 4:30-5:00 |
Speaker Biographies
See the biographies of our speakers here