RSTMH President's Reception
17 June 2022, 6-8pm (BST)
Liverpool School of Tropical Medicine, Liverpool, UK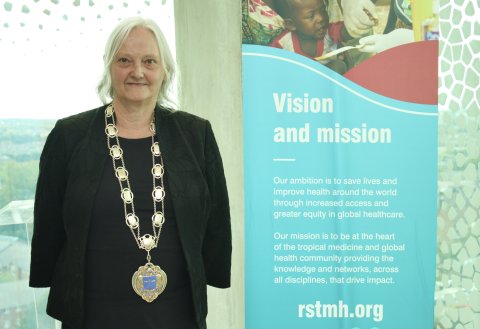 We are delighted to invite RSTMH members and Fellows to join Professor Janet Hemingway CBE and the RSTMH team at the President's Reception which will take place at the Liverpool School Tropical Medicine (LSTM), Liverpool, UK, on 17 June 2022 from 18:00 BST.
This is an exciting opportunity for RSTMH members and Fellows to re-connect, establish new networks, and celebrate the Presidency of Professor Hemingway. There will also be complimentary drinks and canapes served throughout the event.
RSTMH President Professor Hemingway CBE is Emeritus Professor at the Liverpool School of Tropical Medicine, of which she was Director between 2001 and 2019. She has been PI on recent projects in excess of £200 million including the Bill and Melinda Gates Foundation funded Innovative Vector Control Consortium, the UKRI funded iiCON Consortium and the ERDF funded Formulations programme and the BMGF funded Visceral Leishmaniasis elimination programme. Professor Hemingway was awarded the Commander of the British Empire (CBE) for services to the Control of Tropical Disease Vectors.
The event is free for members and Fellows to attend. Their guests and non-members are very welcome to join this reception, at a cost of £20.
This contribution will help us support those working in tropical medicine and global health to save lives, fight diseases and improve access to health.
The President's Reception will follow Professor Charles Wondji Chalmers Medal Talk which will also be taking place at LSTM. More details about Professor Wondji's talk can be found here.
We do hope that you are able to join us for this event. Should you have any questions about the event or registration, please do not hesitate to contact tamar [dot] ghosh [at] rstmh [dot] org (Tamar Ghosh. )