Topics in Infection 2021
18 June 2021
Virtual event
46th annual Topics in Infection
This annual one-day meeting, now in its forty-sixth year, is held in partnership between RSTMH, Barts Health and Public Health England.
This one-day meeting brings together microbiologists, consultants in infectious disease, infection control nurses and biomedical and clinical scientists to hear updates on recent "hot topics" in all aspects of infectious disease.
Delegates will be awarded 5 CPD points from the Royal College of Pathologists.
All talks will available to watch in your own time after the event.
Tickets start at £10.
Talks and speakers
Progress on the Carter Reforms - Joanne Martin, Professor of Pathology, Queen Mary University of London and National Specialty Advisor for Pathology NHS England and Improvement
Overview of the UK Health Security Agency - Jenny Harries, Chief Executive, UK Health Security Agency
Recent advances in vaccines for blood-stage malaria - Simon Draper, Professor of Vaccinology and Translational Medicine, University of Oxford
Advances in diagnostic parasitology - Debbie Nolder, Molecular Lead BMS, PHE Malaria Reference Laboratory & Diagnostic Parasitology Laboratory
Gram-negative infections: what next? - Colin Brown, Consultant in Infectious Diseases and Medical Microbiology, National Infection Service, Public Health England
An update on HTLV ­- Graham Taylor, Professor of Human Retrovirology, Imperial College London
Thrombotic complications of AZ COVID vaccine - Marie Scully, Consultant Haematologist, University College London Hospitals
One Health – international aspects - Eric Fèvre, Professor of Veterinary Infectious Diseases at the University of Liverpool
One Health strategies for surveillance along the fault lines of emerging infectious disease - Christine Kreuder Johnson, Professor of Epidemiology and Ecosystem Health and Director of the EpiCenter for Disease Dynamics at the One Health Institute, University of California, Davis

"I always enjoy and look forward to the Topics in Infection meeting... a great spread of speakers and fascinating topics."

Professor Jo Martin, Past President, Royal College of Pathologists
Registration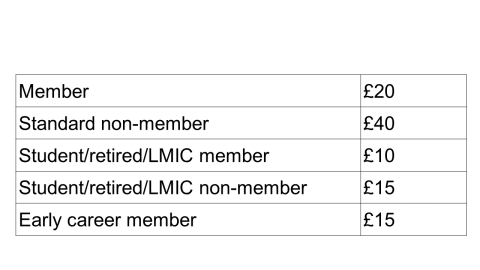 For group bookings or to request an invoice, please email adriana [dot] thursby [at] rstmh [dot] org.
RSTMH event