Trachoma – from a neglected disease to near elimination in the blink of an eye
18 May 2021
Virtual event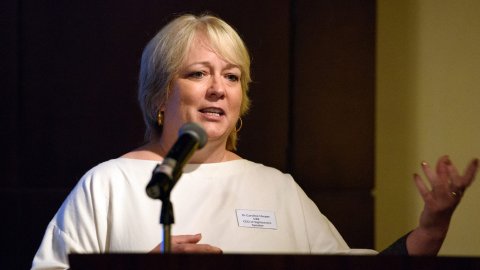 For this webinar, we bring you Dr Caroline Harper's Hemingway Award acceptance speech – a look at the story behind progress towards the elimination of trachoma.
Dr Harper has been Chief Executive of Sightsavers since 2005 and has been instrumental in turning the organisation into a global force which treats millions of people a year and advocates for policy reforms around the world.
She has been involved in developing the partnerships that funded the Global Trachoma Mapping Project, and subsequently secured more than £150 million to end the risk of trachoma blindness in Africa.
"I am honoured to be the first recipient of the Hemingway Award, which celebrates the huge contribution of Professor Janet Hemingway."

Dr Caroline Harper, 2019 Hemingway Award recipient
Register now free of charge
Dr Harper will talk about how Sightsavers was able to get a wide range of different people interested in trachoma, from governments to philanthropists and the Queen Elizabeth Diamond Jubilee Trust.
As always, there will be time at the end of the talk to ask any questions.
Join us on 18 May 2021 between 14:00 and 15:00 BST.