World Antimicrobial Awareness Week - RSTMH Annual Meeting
18 - 24 November 2021
Online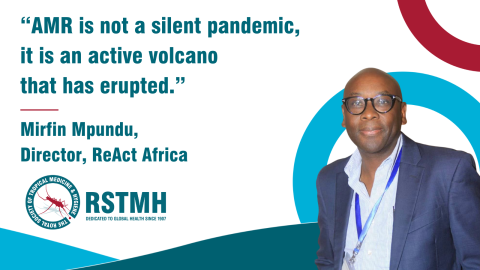 You can still access the recorded content from this event, there is over nine hours of keynote presentations, seminars from experts in the field, turbo talks, and panel discussions.
The Annual Meeting covered a wide range of topics within the drug resistant infection space, inlcuding:
analysis of the drivers of AMR
antimicrobial resistance surveillance
antimicrobial stewardship implementation
antimicrobial usage monitoring in agricultural settings
considerations for successful AMR policy implementation
Programme
Speakers inlude
Clare Chandler, Professor in Medical Anthropology & Director of the Antimicrobial Resistance Centre, London School of Hygiene & Tropical Medicine
Sally Davies, UK Envoy on Antimicrobial Resistance
Mirfin Mpundu, Director, ReAct Africa
Jim O'Neill, Chairman, Review of Antimicrobial Resistance
Adam Roberts, RSTMH Policy Adviser on drug resistant infections and Scientific Chair, Liverpool School of Tropical Medicine
Chris Whity, Chief Medical Officer for England
Ghada Zoubiane, Head of Partnerships and Stakeholder Engagement, International Centre for Antimicrobial Resistance Solutions (ICARS)
Registration
Registration begins at £20. Upon registration you will receive a link to the event platfrom to access the talks.
To save money on your ticket today, as well as on future RSTMH events, why not become a member and take advantage of a whole host of membership benefits?
AMR