Trustee profile: Sarah Rafferty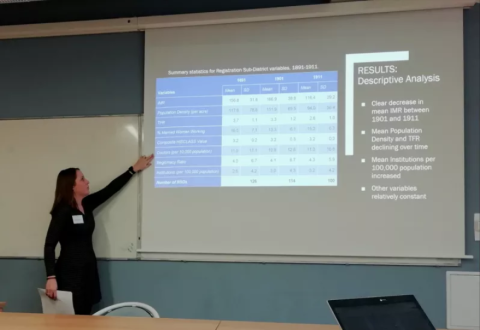 Our Board of Trustees is a crucial part of RSTMH, not only for governance, but also for the different and important perspectives they bring to our everyday work.
In this profile, we interviewed our first Early Careers Trustee, Sarah Rafferty. Sarah joined our Board in September 2018 and is undertaking a PhD in Geography at Cambridge University.
Let's meet Sarah
Our Digital Communications Manager, Sarah Marzouk sat down with Sarah to talk career, inspiration and her aspirations as an Early Career Trustee with RSTMH.
How has RSTMH influenced your early career?
RSTMH has been particularly influential on my career so far on two counts. Firstly, volunteering at the Society enabled me to develop my archival research skills and critical thinking while working on the small grant applications.
Secondly, and perhaps more importantly, it has opened up an impressive network of experts in both the tropical medicine and the public health fields. Having the opportunity to interact with said experts – whether that be at meetings, events or dinners – has been indispensable for career (and life!) advice and mentoring.
What do you hope to gain from the position of Trustee?
Through being a Trustee, I am hoping to gain insight into the running of such a large Society and its journals. It also provides many opportunities for making connections – both in academia and otherwise – with people at the pinnacle of their fields and professions.
Being based in a Geography Department, being involved in the Society enables me to keep my finger on the pulse of research in tropical medicine and public health.
What do you think you will bring to the Board?
As the Early Careers Trustee, I intend to bring the voices and opinions of younger researchers to the RSTMH Board. It is extremely important that we engage our early career members and offer benefits that focus on and advance their careers.
In particular, I hope to help with the introduction of a structured mentoring scheme, where experts can pass on their wisdom and vice versa.
Overall, I aim to keep the Society current and support the next generation of tropical medicine and public/global health researchers.
What is the main motivation you give others to join RSTMH?
For me, as someone in their early career, a great benefit of joining RSTMH is the ability to attend all of the societal events on offer. These provide countless opportunities to present your own research; engage with other cutting-edge work; communicate with a wide range of experts and network among likeminded peers. So that's a number of motivations right there!
Where did your passion for the history of medicine come from?
My passion began during the second year of my undergraduate Geography degree at the University of Nottingham.
Here, Professor Matthew Smallman-Raynor (now the Head of School at UoN) taught a Medical Geography module.
This inspired my undergraduate dissertation on the 1920-35 smallpox epidemic in England and Wales, which opened the floodgates for my love of public health archival research.
Tell us a bit about what you're currently working on
I am currently coming to the end of the first year of an Arts and Humanities Research Council funded PhD in the Geography Department, University of Cambridge. My project broadly explores the improvement of infant mortality in London, 1870-1930, and is utilising a mixed methods approach: spatial modelling of quantitative census data and qualitative archival analysis.
I work in the Cambridge Group for the History of Population and Social Structure which is particularly stimulating for the demographic side of my research.
Additionally, I am undertaking work on the historical demography of the Bukumbi parish in Tanzania as a research assistant for Dr Sarah Walters (based at LSHTM).
Here we are focusing on the digital transcription of missionary diaries, and therefore I also have a keen interest in the development of the digital humanities which is now taking off.
What excites you most about your field of study?
My field of study is particularly interdisciplinary which is extremely exciting. It enables a fuller picture, or a more holistic view, of public health in the past.
Working with both quantitative and qualitative data leads to a deeper understanding of the issues studied and provides social, economic and political context which are incredibly important.
As more and more archives and datasets become digitised, the opportunities for these interdisciplinary projects will only grow.
What has been your most memorable research project so far?
My undergraduate dissertation was the first time I was able to dig deep into the archives (the Gloucestershire County Archives) and the enjoyment I got from this exploration made this project my most memorable so far.
There is nothing better than piecing together a story from fragmented sources, with the aid of the quantitative figures you have already collected. History can be compelling, and I certainly found it so in this case!
What are your aspirations for the future?
First and foremost, I aim to successfully complete my PhD! After this, I would like to broaden my research interests into further global locations and perhaps into a more contemporary time period, therefore pursuing a career in academia (although you never know what other opportunities may arise…!).
In terms of the Society, my main aspiration is to implement the previously mentioned mentoring scheme which would be invaluable for our early career members.
If you have feedback or suggestions as early career researchers that you think would be useful for RSTMH, you can tweet Sarah.
Trustees Early careers