ISBAD 2023: Hear from our Early Career Grant awardees
For this year's International Snakebite Awareness Day, taking place on 19 September 2023, we spoke to our Early Career Grant awardees about why they chose to conduct research into snakebite. Hear from them below.
Abdallah Zacharia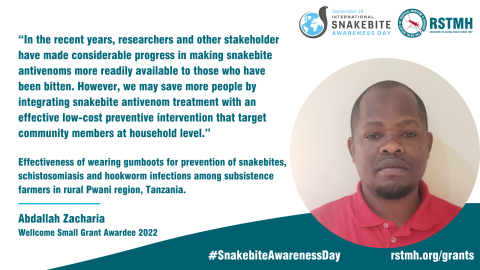 Research Topic: Effectiveness of wearing gumboots for prevention of snakebites, schistosomiasis and hookworm infections among subsistence farmers in rural Pwani region, Tanzania.
Wellcome Small Grant Awardee 2022
Snakebite is neglected tropical disease affecting poor people living in remote areas with limited resources. In the recent years, researchers and other stakeholder have made considerable progress in making snakebite antivenoms more readily available to those who have been bitten. However, we may save more people by integrating snakebite antivenom treatment with an effective low-cost preventive intervention that target community members at household level.
Wearing foot covers can help prevent snakebites by preventing snake fangs from coming into contact with human skin. Gumboots are knee-high rubber boots that are easily available. In Tanzania, a pair costs less than 4 USD. Low-cost gumboots are used to protect lower limbs from chemicals, rainwater, and physical injuries during a variety of industrial, domestic, and agricultural activities.
There is a scarcity of data on the effect of wearing gumboots on the prevention of snakebites. The received early career grant enable me to assess the effectiveness of gumboots for prevention of snakebite among subsistence farmers in selected rural areas of Pwani region in Tanzania.
Syafiq Asnawi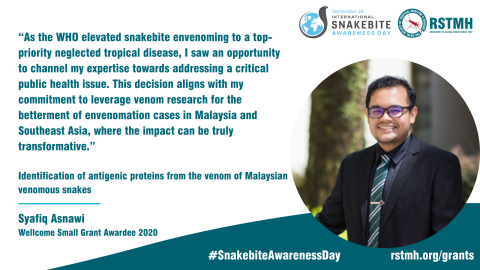 Research Topic: Identification of antigenic proteins from the venom of Malaysian venomous snakes
Wellcome Small Grant Awardee 2020
What is your research focused on?
My research focuses on developing a "universal antivenom" for the ASEAN region, where it can target and neutralise major and common antigenic proteins across different species, hence, reducing the need to seek species-specific antivenom and identification of the species.
Why did you chose to do research on your chosen area of snakebite?
My fascination with snake venom research began when I delved into identifying and characterizing proteins with promising anticancer properties. As the WHO elevated snakebite envenoming to a top-priority neglected tropical disease, I saw an opportunity to channel my expertise towards addressing a critical public health issue. This decision aligns with my commitment to leverage venom research for the betterment of envenomation cases in Malaysia and Southeast Asia, where the impact can be truly transformative.
What impact has receiving this early career grant had on you and your career development?
Receiving the early career grant from RSTMH has been a pivotal moment in my career development. The funding played a crucial role in securing a substantial grant from the Ministry of Higher Education Malaysia in 2022 (Fundamental Research Grant Scheme FRGS Ref: FRGS/1/2022/SKK10/MUSM/03/2). This recognition and support have propelled my research trajectory, allowing me to make meaningful contributions to research in snakebite envenomation.
Nanyonga Stella Maris
Research Topic: Snake bite treatment and treatment outcomes in Uganda: A five-year retrospective analysis
RSTMH/NIHR Small Grant Awardee 2021
Why did you chose to do research on your chosen area of snakebite?
My interest in conducting clinical research on snakebite management stems from the fact that I have clinically managed a snake bite victim and I know the complications around this and the challenges faced by health workers when managing snakebite cases. Snakebite is really a neglected disease with limited opportunities for research funding and quality improvement. Through my research, I hope that I can generate enough clinical evidence to make it easier for the next health worker to manage a snakebite case when they come across one.
What impact has receiving this early career grant had on you and your career development?
Receiving an early career grant has profoundly impacted both my personal growth and career advancement. As a principal investigator, this grant marked my inaugural achievement in securing funding for research, acting as a fundamental platform for refining my grant writing skills. With the support of my mentor and supervisor, I have been able to gain valuable experiences in proposal development, award management, financial reporting and management, award closure and scientific writing. Subsequently, this initial grant opened doors to additional funding opportunities for me, a testament to the formative lessons it provided. This early career grant has been a catalyst for my development, empowering me to evolve into a more adept and resourceful researcher.
Jonathan Steinhorst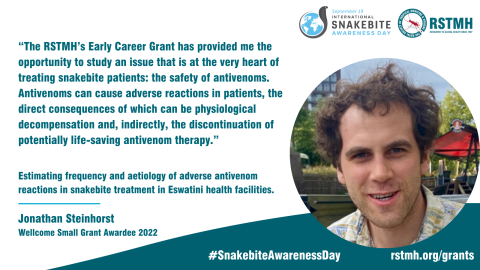 Research Topic: Estimating frequency and aetiology of adverse antivenom reactions in snakebite treatment in Eswatini health facilities
RSTMH/Wellcome Small Grant Awardee 2022
I launched my academic career by participating in a study in Ghana on the treatment of wounds caused by M. ulcerans, a mycobacterial skin infection, which like snakebite is designated a neglected tropical disease. Through this research I discovered that snakebites can cause a similar extent of soft tissue damage, thereby inflicting substantial morbidity on affected patients. The scope and depth of the problem became fully clear to me when, as part of a study, I spoke to traditional healers involved in snakebite treatment in Ghana.
The RSTMH's Early Career Grant has provided me the opportunity to study an issue that is at the very heart of treating snakebite patients: the safety of antivenoms. Antivenoms can cause adverse reactions in patients, the direct consequences of which can be physiological decompensation and, indirectly, the discontinuation of potentially life-saving antivenom therapy. With support of the grant and in collaboration with the Eswatini Antivenom Foundation, I aim to study the frequency and nature of adverse antivenom reactions. The results could assist clinicians in Eswatini to better weigh the risks and benefits of antivenom therapy in the future.
Finally, being a junior researcher, the RSTMH's Early Career Grant is an important stepping stone in my academic career as it allows me to improve my skills as an independent researcher from the first project proposal all the way to the final report.
Michelle Yap Khai Khun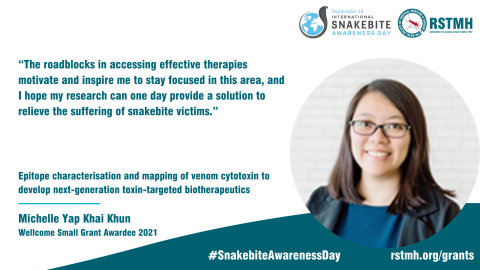 Research Topic: Epitope characterisation and mapping of venom cytotoxin to develop next-generation toxin-targeted biotherapeutics
Wellcome Small Grant Awardee 2021
My research primarily focuses on looking for affordable and effective biotherapeutics to mitigate local symptoms due to envenomation, which often leave sequelae and morbidity in affected victims. Why do I choose to pursue research in the snakebite area? As a toxinologist, I have always been very excited to study venom toxins, which are diverse and fascinating. My interests focus on toxins which cause irreversible local envenomation.
I study the immunological properties of venom toxins using a combination of mass-spectrometry and computational approaches. The ultimate goal is to develop an enriched tool for next-generation biotherapeutics for snakebites. The roadblocks in accessing effective therapies motivate and inspire me to stay focused in this area, and I hope my research can one day provide a solution to relieve the suffering of snakebite victims.
Being the grant awardee, it has been very invaluable support to pursue my research in this direction, it has opened doors for more networking opportunities and resources that propel my career, allowing me to make meaningful impact in the field and beyond.

Saurabh Bhargava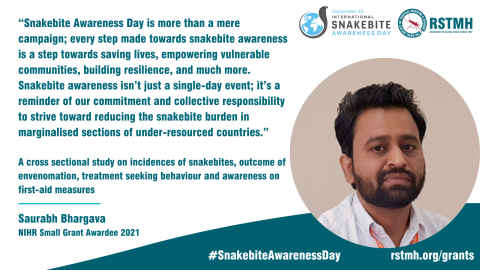 Research Topic: A cross sectional study on incidences of snakebites, outcome of envenomation, treatment seeking behaviour and awareness on first-aid measures
RSTMH/NIHR Small Grant Awardee 2021
What impact has receiving this early career grant had on you and your career development?
The generous international funding I received from RSTMH has played a pivotal role in the successful completion of our snakebite-related epidemiological survey in rural India. This grant enabled us to reach remote communities, gather critical data, and raise awareness about the dangers of snakebites. Not only did this grant help collect crucial data on snakebites that should help bridge the gaps in epidemiological estimates, but it will also empower policymakers to conceive and formulate a data-backed policy implementation against the menace of snakebites. In addition, the results are making a real impact in rural areas by shedding light on the dangers of incorrect first-aid methods and unscientific home remedies.

Why did you chose to do research on your chosen area of snakebite?
My choice to focus on the area of snakebite-related epidemiology stemmed from a series of eye-opening revelations that exposed a critical gap in both awareness and support for unfortunate victims of snakebites. As a researcher, I discovered the existence of government welfare schemes designed to provide financial assistance to individuals, particularly farmers and laborers, who fall victim to snake envenomation. These schemes aimed to extend aid to families in cases of fatalities resulting from snakebites, recognising the dire consequences that snakebites can have on vulnerable populations.
However, what struck me was the alarming lack of awareness about these welfare initiatives among potential beneficiaries. Upon further investigation, I gathered data from government-related agencies in the region and uncovered a startling reality: the majority of the eligible families don't even claim due to a lack of awareness and are not actually benefiting from these schemes. This significant disparity between the potential beneficiaries and the actual recipients raised questions about the implementation and efficacy of these programs.
Consequently, I embarked on a pilot survey to delve into the real incidence of snakebites in the area and gauge the victims' awareness and understanding of these crucial beneficiary schemes. The outcomes of this pilot survey were both eye-opening and compelling. Not only did the survey shed light on a far more substantial burden than previously documented, but it also highlighted the urgent need for education and awareness campaigns targeting those most at risk. Witnessing the disconnect between the policies in place and the lack of awareness on the ground motivated me to embark on a comprehensive research journey in snakebite-related epidemiology. My aim is to bridge the gap between policy and practice, contributing to the development of strategies that not only address the physical challenges of snakebites but also empower communities with the knowledge to access the support they rightfully deserve.
Hayatu Saidu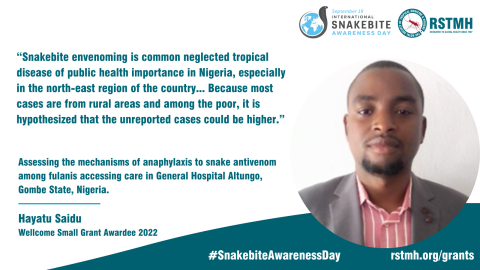 Research Topic: Assessing the mechanisms of anaphylaxis to snake antivenom among fulanis accessing care in General Hospital Altungo, Gombe State, Nigeria.
Wellcome Small Grant Awardee 2022
Why did you chose to do research on your chosen area of snakebite?
Life threatening early adverse reaction to snake antivenom is very common in Nigeria. Even the most refined snake antivenom are associated with significant rates of reaction. Understanding the mechanisms of such reactions may help in developing strategies to have them minimized or fully prevented.
Why research on snakebite envenoming?
Snakebite envenoming is common neglected tropical disease of public health importance in Nigeria, especially in the north-east region of the country. From the months of May to August, 2023, an estimated 1200 patients have been admitted at the snakebite management and research hospital in Kaltungo, Gombe state, north-east of Nigeria. Because most cases are from rural areas and among the poor, it is hypothesized that the unreported cases could be higher.
What impact has receiving this early career grant had on you and your career development?
The impact of this grant on me has been tremendous. It has given me opportunity to complete my project at ease. It has offered me access to educational materials and sites on academic writings, research and grantsmanship. Most importantly however, is the opportunity to network with experts and contemporaries in my discipline across the globe.
Michael Muhoozi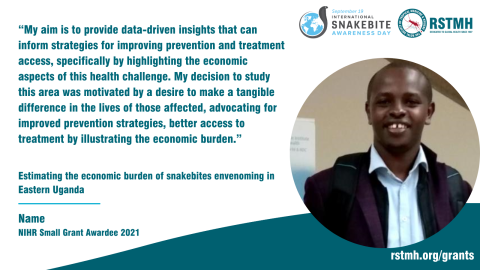 Research Topic: Estimating the economic burden of snakebites envenoming in Eastern Uganda
NIHR Small Grant Awardee 2021
Regarding the theme of this year's event, reflecting on the impact of the last five years and looking ahead at accelerating progress, my research on the economic burden of snakebite in eastern Uganda has been instrumental in shedding light on the ongoing challenges and costs associated with snakebites. I am committed to making a case for investment in interventions for reducing the burden of snakebites.
I chose to focus my research on snakebites due to the profound yet often underestimated consequences they have on vulnerable populations. Snakebites are a neglected tropical disease that disproportionately affects impoverished communities in eastern Uganda. I chose to study this area with the goal of conducting research that quantifies the economic burden of snakebites. My aim is to provide data-driven insights that can inform strategies for improving prevention and treatment access, specifically by highlighting the economic aspects of this health challenge. My decision to study this area was motivated by a desire to make a tangible difference in the lives of those affected, advocating for improved prevention strategies, better access to treatment by illustrating the economic burden.
Receiving this early career grant has been a pivotal moment in my career. It not only provided essential financial support for my research but also opened doors to collaboration with experts and organizations in the field of snakebite research. The grant has been instrumental in my career development, enabling me to pursue my passion for public health and contribute meaningfully to the fight against snakebite envenomation.
Laban Mildred Nje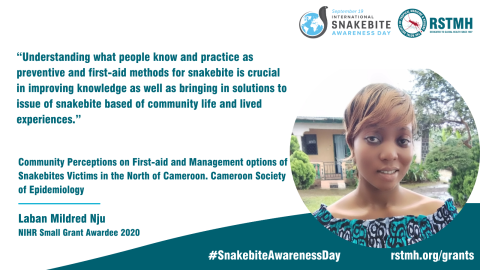 Research Topic: Community Perceptions on First-aid and Management options of Snakebites Victims in the North of Cameroon. Cameroon Society of Epidemiology
NIHR Small Grant Awardee 2020
Many studies have been carried out on snakebite envenoming in the past five years with recommendations on prevention measures and first-aid measures for victims of snakebite. Snake antivenoms which are effective treatments to prevent or reverse most of the harmful effects of snakebite envenoming has been included in the WHO list of essential medicines. However, snake antivenoms remain scare particular in rural communities with disproportionately higher burden of snakebite.
More studies on snakebite envenoming, prevention and treatment should be conducted incorporating the scientific and traditional methods of treatment as most community members prefer traditional remedies in the face of antivenom scarcity.
My research focuses on snakebite first-aid methods because snakebite is a neglected public health issue which just came to lamb light some years back. Many people suffer and have died from snakebite envenoming and yet many individuals are still not aware of preventive and first-aid measures for snakebite.
Understanding what people know and practice as preventive and first-aid methods for snakebite is crucial in improving knowledge as well as bringing in solutions to issue of snakebite based of community life and lived experiences.
Receiving an early career grant has helped me improve my skill on exposed me to learning and acquiring more project and administrative skills.
Also, the early career grant pushed me to further my education in public health to development in academic and career pursuits.