ISBAD 2023: Our journey to combat snakebite envenoming requires innovation, collaboration, and equity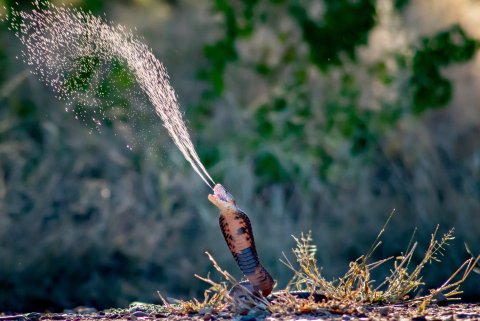 This International Snakebite Awareness Day, Dr Frank Tianyi, Clinical Research Associate at the Centre for Snakebite Research and Interventions at the Liverpool School of Tropical Medicine, explains why, five year's since the first ISBAD, this year's theme of "Building momentum for better outcomes" is essential.
A Complex Curiosity
For centuries, scientists have been captivated by snake venom, a complex blend of over 3000 bioactive molecules. This curiosity has led to remarkable discoveries, from diagnostic tools like Ancrod to life-saving medicines like captopril. But in places where venomous snakes thrive, people often face dangerous encounters. Snakebites can result in a range of symptoms known as snakebite envenoming (SBE), which can be life-threatening and challenging to treat. As a physician in Cameroon, I recall the lack of access to diagnostic tools and optimal antivenom doses for managing snakebite envenoming. It's a tale of both wonder and suffering, highlighting the complex relationship between humans, snakes, and the health system.
Parallel progression
In the 20th century, pioneers like Dr. Albert Calmette and Dr. Vital Brazil focused on toxinology and preclinical research to produce antivenom. The 21st-century evidence revolution, characterized by Randomized Controlled Trials, Systematic Reviews, and an intentional approach to evidence-based practice, did not drastically change antivenom development. This has made it challenging for regulators, policymakers, and health ministries to identify effective and safe antivenoms for their countries. This challenge is more pronounced in sub-Saharan Africa, which faces a high incidence of snakebites, limited antivenom production capacity, and supply crises due to various factors. In recent decades, there has been a shift toward more clinical research and an increasing need to balance the viability and quality of antivenom production.
Renewed Enthusiasm
Recent years have seen a surge in enthusiasm for tackling SBE, thanks to organizations like the Royal Society of Tropical Medicine and Hygiene (RSTMH), the Wellcome Trust, the Hamish Ogston Foundation, and academic institutions like the Liverpool School of Tropical Medicine. Initiatives like International Snakebite Awareness Day (ISBAD) have brought attention to the suffering of snakebite victims. This renewed interest has led to innovative diagnostic tools and treatments, such as rapid tests and oral therapies. To consolidate these gains, toxinologists and clinical researchers must collaborate to explore the potential of these new technologies. As SBE becomes more visible and investments in research and treatment increase, planning for new and sustainable funding mechanisms is crucial to maintain the downward trend in the burden of snakebite envenoming.
Duty of Care to the Vulnerable
In our fight against SBE, we must prioritize research quality and ethical values. Snakebite victims, often in remote communities, deserve safe, effective, and affordable treatments that have undergone rigorous scientific scrutiny and met necessary regulatory approvals. Involving patients and the public using participatory approaches will improve the quality and relevance of research. Upholding these values ensures that, the duty of care to vulnerable populations is maintained. In my role as Associate Editor for the Transactions of the RSTMH journal, I ensure that the snakebite research we publish meets the highest standards of academic and ethical rigor and integrity.
Charting Our Path Forward
Our journey to combat snakebite envenoming requires innovation, collaboration, and equity. As we reflect on building momentum for better outcomes, we will continue to explore the mysteries of snake venom and strive for safer and more effective therapies. The increased visibility, driven by initiatives like ISBAD and the WHO's commitment to reducing suffering from SBE, will ensure that SBE remains a global health priority. The onus is on us a community to strengthen partnerships between antivenom manufacturers, clinical researchers, and policymakers. This will streamline the development, validation, and uptake of next-generation treatments, and move us closer to the goal of a brighter, healthier future for all at risk of snakebite envenoming.