Professor David Mabey: Progress has been made against NTDs but the battle is far from over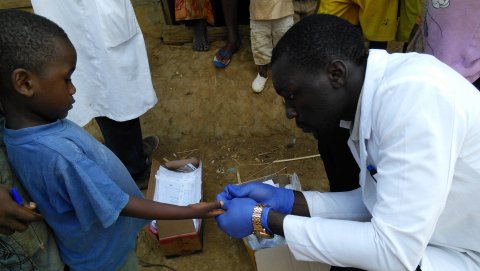 Professor David Mabey, Past President and Trustee of RSTMH and Chair of the Scientific and Technical Advisory Group of the WHO Department of NTDs, looks at what progress has been made in the fight against neglected tropical diseases (NTDs).
Today, 30 January 30, is World NTD Day, on which we are all encouraged to 'act now, act together and invest in Neglected Tropical Diseases'. NTDs still cause a huge burden of disability, stigma and death among poor people living in low and middle income countries, but great progress has been made in reducing the burden in the last 20 years.
In 2012, Bill Gates and the CEOs of 13 of the largest pharmaceutical companies in the world promised to sustain, expand and extend programmes that ensure the necessary supply of drugs and other interventions to help eradicate Guinea Worm disease and eliminate lymphatic filariasis, leprosy, human African trypanosomiasis and blinding trachoma by 2020. Why did Bill Gates and big pharma decide to support the elimination and eradication of NTDs? Because they were rightly convinced that supporting their elimination or eradication was an excellent investment in terms of dollars per healthy life year saved.
Thirty years ago, it was shown that NTDs such as trachoma, onchocerciasis and lymphatic filariasis could be effectively controlled through mass treatment given by community health workers even in remote rural communities. Jimmy Carter invited the CEO of Merck to a village in Africa where most of the adults were blind from onchocerciasis, and he agreed to donate ivermectin for its control and elimination for as long as it was needed. Other drug donations soon followed and, thanks to the great advocacy work done by fellows of the Royal Society of Tropical Medicine and Hygiene, such as David Molyneux, Allen Foster, Simon Bush and Alan Fenwick, substantial funds were allocated to NTD programmes by governments, aid agencies, philanthropic donors and NGOs such as Sightsavers and CBM, resulting in amazing progress over the past 20 years.

Progress against NTDs
The number of people at risk of acquiring an NTD has been reduced by 500 million since 2012, trachoma has been eliminated from 15 countries and the number of people at risk of this painful, blinding disease has been reduced from 1.5 billion in 2002 to 145 million in 2021.
An estimated 100,000 people were suffering from Guinea Worm disease in 1997, but only 14 cases were reported in 2021. A new, oral treatment for African trypanosomiasis developed by the Drugs for Neglected Diseases Initiative has been shown to be effective, and the number of cases of sleeping sickness reduced from an estimated 35,000 cases in 1998 to fewer than 1,000 in 2021.
But the battle is far from over! Funding for NTD programmes has been cut as a result of the COVID-19 pandemic and the UK government, which had been a major contributor to NTD control and elimination programmes for many years, decided to cut its overseas aid budget in 2021, resulting in a serious funding shortfall for NTD programmes in East and West Africa.
On World NTD Day two years ago, the WHO launched its new roadmap for the control and elimination of NTDs, setting ambitious but achievable targets for 2030. Now is the time for us all to act, act together and invest in Neglected Tropical Diseases.