World Chagas Disease Day: Early Career Grant research into Chagas disease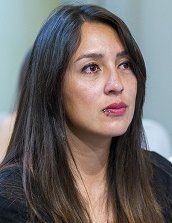 Today is World Chagas Disease Day, which aims to spread awareness about this 'silent and silenced disease', which kills 10,000 people worldwide per year.
We spoke to one of our Early Career Grant awardees about why she chose to focus on the disease in her research and why this year's WHO theme of 'Finding and reporting every case to defeat chagas disease' is so important.
Majo Carrasco-Tenezaca received an RSTMH/NIHR grant in 2021 for her research project on 'Assessing the vulnerability to Chagas disease infection in temporary shelters in rural communities in southern Ecuador: a mixed-methods approach'.

Why did you choose to focus your research on Chagas disease and this topic?
"Since 2012 I have been part of the architecture research and implementation team of a project that aims to control Chagas disease in southern Ecuador. In one of our weekly meetings, it was mentioned that farmers sometimes sleep in their agricultural plots in structures they call 'chozas', a practice that might place people at risk of getting infected. I thought it was a question worth exploring and contacted a researcher at CISeAL PUCE to co-develop a proposal."
The theme for World Chagas Disease Day 2022 is finding and reporting every case to defeat chagas disease. Why is this needed?
"In my experience people living in areas where risk for Chagas disease infection is high don't seek medical treatment unless what they experience prevents them from performing their daily activities because it means losing a whole working day. Even if they contact a physician they might not be diagnosed because blood testing for Chagas disease is likely not available at the rural health centre. This is especially important for Chagas disease because treatment is only possible with early diagnosis."

How has receiving the NIHR/RSTMH grant funding benefitted you in your career?
"Getting the award has improved my confidence as a researcher because the questions I am asking make sense to a community. This project is my first externally-funded project along with CISeAL-PUCE. It is a proof of my growth as researcher. Thanks to the networking meetings organized by the RSTMH I have already met many researchers working in Chagas disease in UK and Latin America, this means a lot of learning and possible collaborations in the future."

Apply for an RSTMH Early Career Grant
The RSTMH Early Career Grants Programme – formerly called the RSTMH Small Grants Programme – is open for applications. Applicants can apply for a grant of up to £5,000 (GBP) to deliver a project over one year. The projects can be on any topic related to tropical medicine and global health, from across the research spectrum of lab, translation, implementation and policy.
Apply here by 17:00 on 29 April 2022