Trachoma eliminated in The Gambia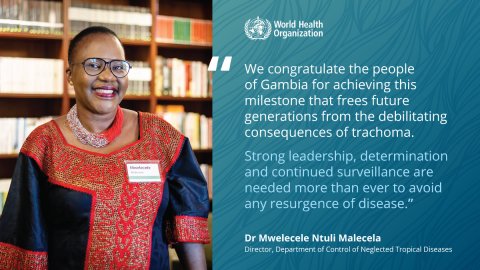 On 20 April, the WHO announced that The Gambia had met the targets for the elimination of trachoma as a public health problem.
In 1986, when I was working in The Gambia, a national eye health survey found that 17% of blindness in the country was due to trachoma, so this is a remarkable achievement and a great credit to all those involved with the national eye care programme.
In 1986 the treatment for trachoma recommended by the WHO was tetracycline ointment, to be applied to both eyes twice daily for six weeks.
Anyone who has tried to apply ointment to the eyes of small children will know how difficult it must be to complete such a course.
Millions of doses donated
Research done in The Gambia in the early 1990s showed that a single oral dose of the antibiotic azithromycin was equally, if not more effective and, as a result of that study the manufacturer of azithromycin, Pfizer, agreed to donate it for the global elimination of trachoma for as long as it was needed.
Since 1998 more than 900 million doses have been donated, the number of people at risk of trachoma has been reduced from 1.5 billion to 137 million, and The Gambia is the eleventh country to be validated by WHO as having met the elimination targets.
WHO roadmap for NTDs
Trachoma is still the leading infectious cause of blindness worldwide but there can now be little doubt that the target set in the new WHO Roadmap for Neglected Tropical Diseases will be met, and trachoma will have been eliminated as a public health problem globally by 2030.
"Ending the neglect to attain the Sustainable Development Goals: a road map for neglected tropical diseases 2021–2030" aims to strengthen the response to NTDs by bringing together shared goals and disease specific targets.
One of the road map's many ambitious targets is to ensure that 100% of all NTD-endemic communities have access to at least basic water and sanitation services by 2030.
As well as ambitious goals, the road map calls all NTD stakeholders to rally around a common workplan and promote three main shifts: from process to impact; from vertical programmes to cross-cutting, cross-sectoral approaches; and from external- to country-driven agendas.
NTDs Blogs