RSTMH members and supporters reunite at President's Garden Party, as Chris Whitty announced as Honorary Fellow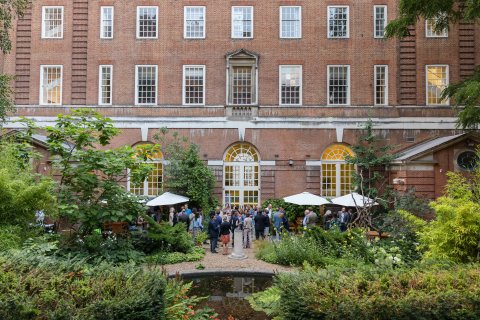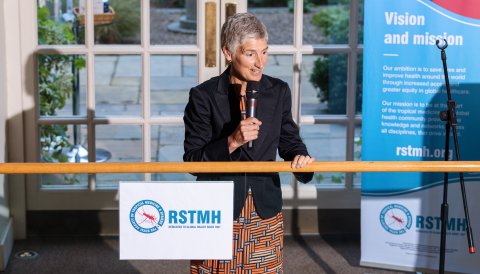 This week I was so pleased to be able to meet with some of our members and supporters at the first President's Garden Party which took place at the British Medical Association in London.
It was a fantastic opportunity to hear from our President, Professor Gail Davey as well as her nominated speaker, Professor Sally Theobald, who delivered a brilliant lecture on "neglected contexts in global health: analysing and addressing intersecting inequities".
We were also thrilled to announce Professor Chris Whitty as our latest Honorary Fellow. Professor Whitty was nominated by former RSTMH President, Professor Sarah Rowland-Jones. Although it was wonderful to see so many people after 18 months of Zoom calls and emails, Sally's talk could not have been more apt given the magnitude of what our sector has been through, and the challenges we continue to face.
Brilliance, inequity, hesitancy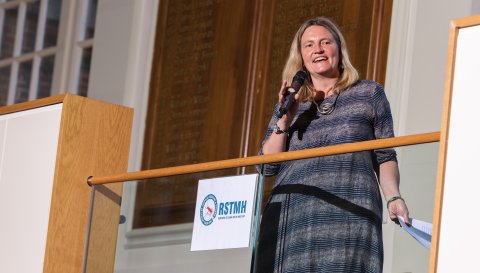 Gail began the evening by inviting all the guests to take part in a minute's silence in tribute to all those we have lost during this pandemic. This was a touching and important gesture, which she followed by acknowledging three points around vaccinations that have occurred during her presidency at RSTMH:
Brilliance – Her pride in leading a Society whose members have played such a vital role in vaccine development and testing. It is brave, bold, brilliant science at its best - but alone, it is not enough.
Inequity – From the moment that pre-orders for vaccines became possible, we have watched our world fissure along the old lines of wealth vs poverty, power vs lack of it. Gail mentioned how her teenage son in the UK will be offered his vaccination before elderly relatives in India, and I too have experienced this very uncomfortable reality of inequity.
Hesitancy – It is easy to lay blame or dismiss individual vaccine hesitancy without considering underlying societal and political factors. Understanding these structural forces is vital to dismantling vaccine hesitancy.
Neglected contexts in global health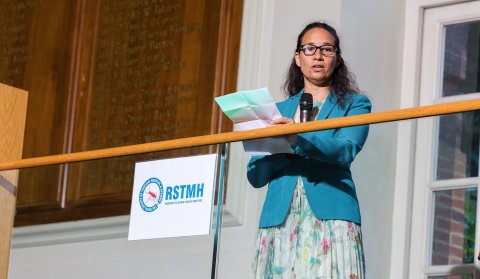 Her final point could not have been more fitting for introducing our brilliant speaker for the evening, Sally Theobald, Professor in Social Science & International Health at LSTM. As a social scientist with over 25 years' experience of collaborative research projects focusing on strengthening health systems and equity in different contexts, we could not have asked for a more informed person to discuss "neglected contexts in global health: analysing and addressing intersecting inequities".
She broke the lecture down into three sections: Neglected countries, neglected communities and neglected health conditions, but began by stating how COVID-19 has reinforced the fact we now live in an interconnected, but unequal world, a fact that we at the Society are keenly aware of.
For those of you who could not be at the event, I would encourage you to register for Sally's lecture which she will be delivering for our members virtually on 16 September (please register here for tickets).
Highlights however include the ReBUILD for Resilience rsesearch with Community Health Workers (CHWs) who provide vital bridges between communities and health systems. She outlined how community-based participatory research lies at the heart of the ARISE approach which aims to improve accountability and promote the wellbeing and health of urban marginalised people living and working in informal urban spaces.
Lastly, Sally discussed the importance of research on neglected health conditions, including severe stigmatising skin diseases (SSSDs) highlighting insights from the NIHR-funded REDRESS programme (Reducing the burden of severe stigmatising skin diseases in Liberia).
She concluded by returning to the impact of COVID-19 and the need to promote vaccine equity, address the social determinants of health, and invest in strengthening health systems to ensure that gains made are not undermined but are instead reinforced. She argued that it is particularly tragic and ironic that at this moment of interconnectedness, the UK government has cut the aid budget, which means cuts to research with wide-reaching implications for knowledge production that includes global health.
Highlights and challenges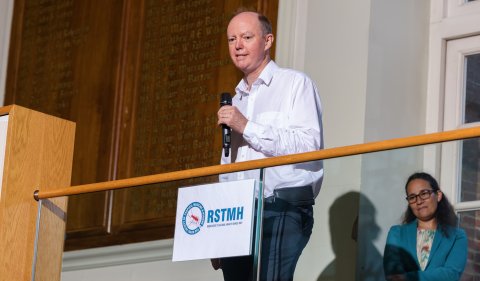 After such an important and well-delivered lecture, I wanted to spend a moment acknowledging how, despite insurmountable challenges this year, RSTMH is as committed as ever to supporting our members, using the knowledge and experience of our networks to achieve change, and working towards important topical issues such as vaccine equity.
I wanted to thank our donors: NIHR, Wellcome, ITI, and Hamish Ogston who enabled us to support more early career researchers than ever before in 2020 (124 compared to 16 three years ago).
There are too many highlights to list, but among them are the launch of two new websites and a CRM; special issues of our journals on mycetoma, podoconiosis and NTDs; increased impact factors; new partnerships around policy and dissemination; and a relaunched President's Fund.
Developments to look out this year include our new Members area which will provide resources and opportunities for our members, our Annual Meeting on drug resistant infections, and the announcement of our new Trustees from India, Nepal, Tanzania and Nigeria.
An active supporter of RSTMH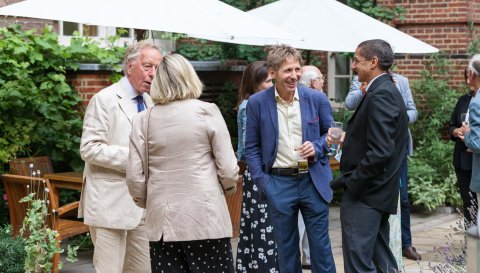 Finally, we were delighted to announce Professor Chris Whitty as our new Honorary Fellow.
Nominated by former RSTMH President Professor Sarah Rowland-Jones, we were thrilled that he came to our event to accept in person.
Professor Rowland-Jones said: "I would really like to acknowledge Professor Whitty's support for the Society and his willingness to contribute to meetings, committees etc. despite all his other commitments – he really has given us really great support over many years."
Chris has been a member of the Society since 1994 and an active supporter through his work on the Education and Training Committee and was awarded the Chalmers Medal in 2011.
We were so pleased to hear him praise the RSTMH team for being forward-looking and doing a fantastic job over the last year. We look forward to working with him in the future.
Rekindling relationships
The rest of the evening was spent talking to friends, members and colleagues, and rekindling relationships that have been more difficult over the past 18 months with busy schedules and virtual platforms.
There was a great sense of happiness at seeing one another again, but a recognition that many of our network were not able to join us. We eagerly anticipate seeing them when the time for travel is right.
We really hope to see many of our members at our virtual event on 16 September where you will hear Professor Sally Theobald's lecture, as well as have the opportunity to network virtually following a Q&A.
Members Membership