Annual Meeting 2020: Emerging diseases and outbreaks
13 to 14 Oct 2020, 09:00-17:30
Virtual event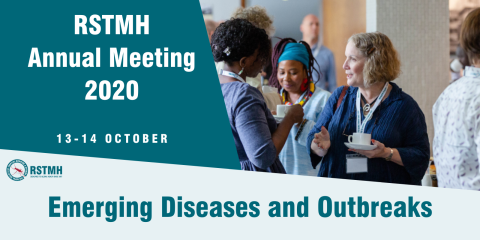 Registration is now closed for this event.
Our Annual Meeting is just around the corner - we are looking forward to welcoming you to this virtual event, bringing together our members and supporters from around the world.
RSTMH Annual Meeting Programme
Speakers
Patricia Amira, broadcaster and media personality
Professor Daniel Bausch, Director, UK Public Health Rapid Support Team (UK-PHRST), Scientific Chair of the RSTMH Annual Meeting
Dr Sylvie Briand, Director, Infectious Hazards Management Department, World Health Organization
Sean Carrol, Matron ICU, Royal Free Hospital, UK
Dr Chioma Dan-Nwafor, Incident Manager, National Lassa Fever Emergency Operations Centre, Nigeria CDC
Professor Rashida Ferrand, Epidemiologist and physician, Parirenyatwa General Hospital, Zimbabwe
Professor George Gao, Director-General, Chinese Centre for Disease Control and Prevention (China CDC)
Professor Paul Garner, Professor of Infectious Diseases, Liverpool School of Tropical Medicine (LSTM)
Victoria Gill, Science Correspondent, BBC
Dorcas Gwata, Nurse and global mental health specialist
Professor Janet Hemingway, Professor of Vector Biology at the Liverpool School of Tropical Medicine (LSTM) & Senior Technical Advisor on Neglected Tropical Diseases, Bill and Melinda Gates Foundation
Professor David Heymann, Professor of Infectious Disease Epidemiology, London School of Hygiene & Tropical Medicine (LSHTM)
Dr Johan Van Hoof, Global Therapeutic Area Head, Vaccines, Janssen Pharmaceuticals R&D & Managing Director, Janssen Vaccines & Prevention B.V.
Professor Peter Horby, Professor of Emerging Infectious Diseases and Global Health, University of Oxford, and Chair, New and Emerging Respiratory Virus Threats Advisory Group (NERVTAG), UK
Professor Peter Hotez, Dean for the National School of Tropical Medicine, Baylor College of Medicine
Dr Chikwe Ihekweazu, Director General, Centre for Disease Control (NCDC)
Dr Benido Impouna, Coordinator, Health Emergency Information, World Health Organisation
Dr Sir Michael Jacobs, Clinical Director of Infection, Royal Free London NHS Foundation Trust, UK
Professor Helen Lambert, Professor of Medical Anthropology, University of Bristol
Professor Heidi Larson, Director, Vaccine Confidence Project
Professor Graham Medley, Professor of Infectious Disease Modelling, London School of Hygiene and Tropical Medicine
David Morens, Senior Advisor to the Director, National Institute of Allergy and Infectious Diseases, USA
Theresa Ochoa, Director, Institute of Tropical Medicine Alexander von Humboldt, Peru
Professor Rosanna Peeling, Chair of Diagnostics Research, London School of Hygiene and Tropical Medicine (LSHTM) & Director, International Diagnostics Centre (IDC)
Dr Bhargavi Rao, Clinical Team Lead: COVID focal point and Malaria & Infectious Diseases Specialist, Médecins Sans Frontiers (MSF)
Melanie Seville, Director of Vaccine Development and R&D, Coalition for Epidemic Preparedness and Innovations (CEPI)
Dr Santosh Vijaykumar, Senior Lecturer, Health and Communication Risk Scientist, Northumbria University
Kate White, Health Lead: Emergency Desk, Médecins Sans Frontiers (MSF)
Professor Chris Whitty, Chief Medical Officer for England, Chief Medical Adviser to the UK Government, Department of Health and Social Care
Professor Jimmy Whitworth, Professor of International Public Health, London School of Hygiene and Tropical Medicine (LSHTM) RSTMH Trustee
Registration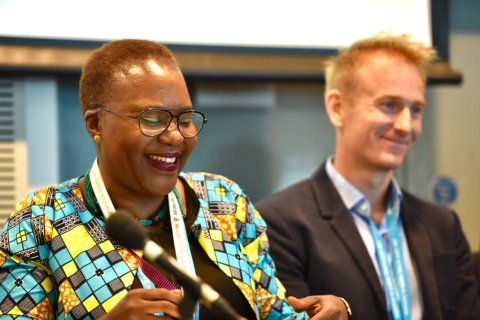 | Ticket type | Standard |
| --- | --- |
| RSTMH Member | £95 |
| Non-member | £180 |
| Student / retired LMIC Member | £20 |
| Student / retired LMIC Non-member | £50 |
| Early Careers Member | £50 |
For group discounts and to request an invoice, please email adriana [dot] thursby [at] rstmh [dot] org (Adriana Thursby-Pelham).
To save money on your ticket today, as well as on future RSTMH events, why not become a member and take advantage of a whole host of membership benefits?
Why Attend?
All delegates will have access to networking sessions, abstract presentations and plenary talks, as well as an on-demand service following the event to watch the content and feed into the discussion in your own time.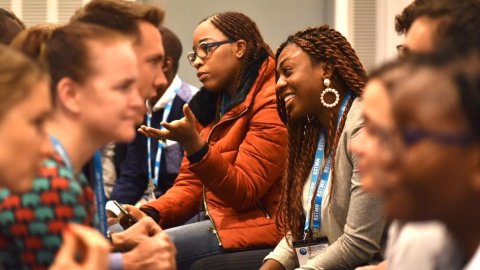 Learn from senior experts from across the globe, on a range of subjects around the theme
Hear the latest research and lessons from the field
Have the chance to ask questions and discuss in plenary
Attend virtual networking sessions to get to know your fellow attendees
Feed into a panel developing ideas, views and evidence for RSTMH to take forward in the coming year.
By booking a ticket you are agreeing to the event terms and conditions
RSTMH event