Record number of small grants received in 2020
This year we have once again seen a record number of applicants for our small grants programme, receiving 932 applications in total. The grants can be up to £5,000 (including VAT) and can be used for travel, accommodation, consumables, field expenses, including salaries or per diems and transport, as well as items of equipment or software.
At this time, it seems even more important that we are encouraging the next generation of researchers and professionals to explore their ideas.
Availability of alternative funding
Our members and our own research suggest that our grants are quite unique for their accessibility, amount, flexibility and target audience. For researchers early in their careers who have an idea or concept they would like to test out, these grants can be a useful help up to the next stage of funding.
This year, 83% of applicants told us they would be unable to find funding for this elsewhere, compared with 78% last year.
Number of applications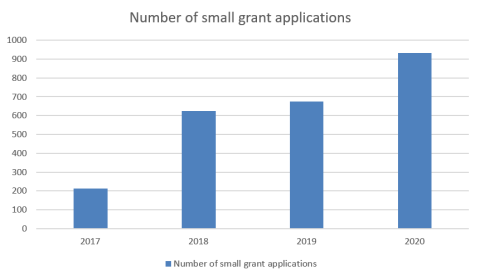 This year we have once again seen a record-breaking number of applications, increasing year on year for the past four years, to 932 in 2020.
Gender split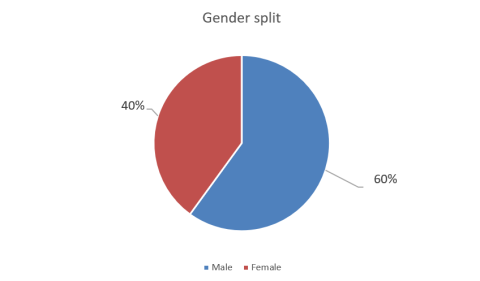 The gender split of our applications has been consistent over the last few years. In 2019, 59% of applicants were male and 41% female. This year the split is just slightly different with 60% applicants being male, 40% female, and 2 applicants who didn't want to disclose their gender. Maintaining this balance is important at this seed-funding level, as we are aware that the gender gap between male and female widens significantly at more senior levels in our sector.
Where our applicants are from
This year we have seen submissions from 81 countries compared with 73 last year. As you can see we have representation across all continents which is partly due to the growth in countries with RSTMH student and country ambassadors. We will continue to raise awareness of the small grants across the globe.
Countries where research is carried out
This year we are seeing a shift in the countries where the research is being carried out. While there is more research being planned across African and Asian countries than last year, there are also some notable decreases such as in India.
Roles of our applicants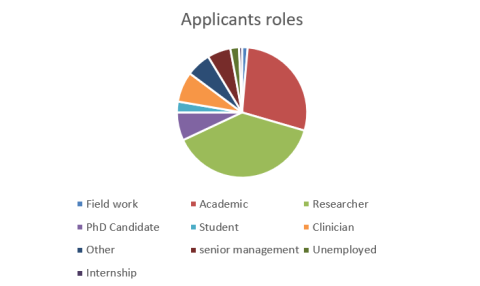 We want to ensure we are attracting applications from people in different roles and also from a range of sectors, and this year have applications from students to those in senior roles, from universities and hospitals to NGOs and industry. This diversity is important as we want to encourage ideas from a wide range of disciplines and practices to be tried and tested.
Areas of research
We have not been able to comprehensively analyse the disease and health topics that are being focused on with our applications but will be doing this over the next few weeks. For now, we are very pleased to see more than 70 applications on COVID-19 related projects, alongside our priority areas, snakebite, skin NTDs and co-morbidities. Externalities such as climate change, conflict, mental health and other factors affecting human health are also on the agenda.
Demand and supply
Over the last few years, we haven't had the funding to be able to award all of the applications that are deemed of high quality by our team of global assessors. For example, last year, with the help of our partners NIHR and ITI we were only able to fund 30 applications out of over 180.
This year we are lucky enough to have greater support from NIHR, ITI and Wellcome and so have the funds to support over 150 applications. It is our hope to be able to fund all quality applications this year although this depends on topic areas and assessments.
Watch this space for further reports as we move through assessment, to award our next group of applicants.
Grants