WASH and NTD collaboration: no more excuses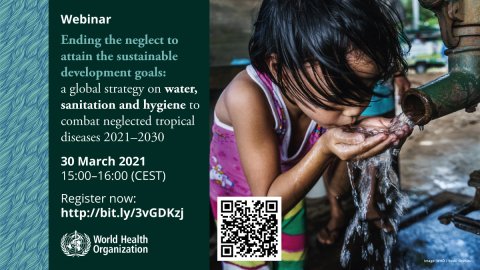 This week on World Water Day (22 March), the NTD community further shone a light on the critical role that access to clean water and sanitation plays in the prevention of these illnesses through the release of the World Health Organization's (WHO) global strategy on water, sanitation and hygiene (WASH) and NTDs.
The strategy, which accompanies WHO's 2021-2030 NTD road map, is a clear indication that tides and times are changing, with a much needed focus being placed on the need for increased incorporation of WASH.
1.7 billion people affected by NTDs
Combatting NTDs starts and ends with WASH
I believe and continue to demonstrate that the solution for combatting NTDs starts and ends with WASH – a message that the onset of the global pandemic successfully communicated to members of the NTD community.
The global health focus must continue to shift from solely reflecting treatment as the primary solution, and embrace the power of prevention through WASH.
The COVID-19 pandemic has caused policymakers, global health advocates and donors to step away from a culture that previously undermined the relationship between WASH and disease prevalence.
For a fifth year in a row, last year one billion people were treated for NTDs. While this is extraordinary outreach, it begs us to question how much of that suffering could have been prevented all together if children weren't drinking intestinal worm-laden water and women weren't irreversibly blinded at four times the rate of men by flies thriving in open waste.
Despite excellent work being done to bring needed attention to these 20 diseases that attack the most vulnerable, and the efforts to get medications to them, the economic toll remains high and the human suffering remains devastating.
This is no small problem and my country, Nigeria, is a case in point.
Nigeria carries 25% of Africa's entire NTD burden
According to WaterAid, 95% of healthcare centres in Nigeria are without basic WASH provisions, as well as 79% of all households.
It is both alarming, and no surprise, that in a country where the majority of its citizens lack WASH and ranks first among nations in open defecation, half of its population – an estimated 100 million people – are at risk for at least one NTD. Nigeria carries 25% of Africa's entire NTD burden.
In 2013, the Federal Ministry of Health sought to reduce NTD morbidity and mortality, including by scaling-up WASH and other interventions – a step in the right direction. Guinea worm has been eliminated in Nigeria with a dramatic decline in three other NTDs (lymphatic filariasis, onchocerciasis, and trachoma which causes irreversible blindness).
But Nigerians are far from NTD-free and even farther from having the water and sanitation they deserve.
One of the goals of my organisation, WBFA, is to improve health outcomes for women, children and infants. We are committed to improving and increasing access to WASH in healthcare facilities, schools and communities across Nigeria, in a bid to reduce and eventually eradicate the prevalence of NTDs.
WBFA's team of midwives, in partnership with Unilever Lifebuoy Nigeria and Sightsavers, have reached more than two million children at-risk of NTDs, all while improving the education and hygiene practices.
These school-based efforts reinforced in children, their families and communities the importance of prioritising WASH interventions, including handwashing with soap.
New WHO strategy and road map
The new WHO 2021-2030 strategy and road map are a much welcomed northern star.
For the first time, there is a global target for WASH that countries must meet over the next 10 years – a solidified set of directions that will mark long-term change at each juncture.
The companion strategy on integrating WASH will make way for new collaboration calls for investments, programming and policies to assure universal and sustainable WASH coverage in NTD endemic areas, otherwise, we risk losing the gains made in reducing NTDs over this past decade and into the future.
COVID-19 has ushered in greater understanding of the integral role WASH plays in public health.
It is fair to say, that unacceptable WASH conditions not only fan the flames of COVID-19 where people cannot adequately wash their hands, they contribute to many less infamous but pervasive diseases that cause great harm, like, NTDs.
At a time when the world is focused on global health, the NTD community is offering important leadership that I hope will encourage many other global health efforts to stop neglecting what is the singular foundation upon which to build better health.
NTDs Blogs WASH