DFID launches flagship programme to tackle neglected tropical diseases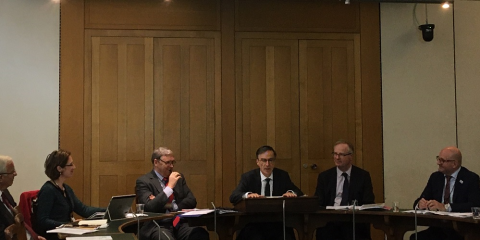 This week we were delighted to attend a meeting to recognise the UK Government Department for International Development's (DFID) flagship neglected tropical disease (NTDs) programme, ASCEND at the UK Houses of Parliament.
Hosted by Jeremy Lefroy MP, as Chair of the All-Party Parliamentary Group (APPG) on Malaria and NTDs, the opening address was from the Minister of State for International Development, the Rt Hon Andrew Murrison MP who introduced the programme and explained its importance for DFID.
The ASCEND programme
The ASCEND (Accelerating Sustainable Control and Elimination of Neglected Tropical Diseases) programme is a £200m investment to advance the impact and sustainability of national programmes tackling NTDs. Implemented between September 2019 and March 2022, ASCEND comprises two lots – one focusing on South Asia, East and Southern Africa, led by a consortium including Crown Agents, and one focusing on West and Central Africa led by a consortium including Sightsavers.
The diseases being targeted by ASCEND are lymphatic filariasis, onchocerciasis, schistosomiasis, trachoma and visceral leishmaniasis.
Kate Hargreaves, the ASCEND Team Leader from Crown Agents, said:
"We are thrilled to be leading part of the ASCEND programme because it comes at such a significant point in the progression towards the end game. Together with our consortium partners, Oriole Global Health, who have tremendous expertise across the five NTDs we are tackling, Abt Associates with their keen experience on health systems strengthening, and the Royal Tropical Institute of the Netherland (KIT), we present a full range of the skills and experience needed to deliver DFID's goals.

The legacy of a successful ASCEND programme will also be greater capability within governments to manage NTDs through committing more of their own domestic resources."
Looking beyond the treatment of NTDs
This NTDs programme is a small departure from past DFID programmes, in that it has a more holistic focus. Looking beyond treatment for the diseases, it also focuses on strengthening the health systems that are needed to ensure that advances made are sustainable.
In the past, the focus may have been more on drug or service delivery, but now, with the context of Universal Health Coverage and the Sustainable Development Goals, it is crucial that the programme delivers care to the most vulnerable, most hard to reach, as well as working with national governments to ensure sustainable systems after 2022.
Simon Bush, Director of NTDs at Sightsavers, RSTMH Trustee, and responsible for overseeing lot two said the programme was "ground-breaking". He described the interventions that form the programme as being bottom up rather than top down in their design:
"The difference is integration, bringing together different NTDs so that the patient is at the centre of the programme and we can treat them for multiple diseases often through community volunteers which form the bedrock of the approach."
He went on to say:
"Sightsavers has been involved in NTDs since around 1956, starting with river blindness. My goal for ASCEND is to eliminate the NTDs which are feasible, build a stronger health system and ultimately change lives in the communities we work with."
The Sightsavers consortium includes the Schistosomiasis Control Initiative (SCI), Mott Macdonald, the Liverpool School of Tropical Medicine, WaterAid and many others, will be responsible for delivering the programme in 13 countries.
Millions of treatments across 13 countries
Lot two will deliver treatments for many diseases including 7 million for trachoma, 65 million for schistosomiasis, over 200 million for lymphatic filariasis and 142 million for onchocerciasis.
It will ensure interventions are inclusive and accessible to all includes significant components of monitoring and evaluation and will aim to embed a culture of learning, with time built in to pause and reflect on progress.
Much of the programme will be delivered by local, trained community health workers, with volunteers and webinars to assist with any knowledge gaps. It will also have goals around sustainability, with capacity building of national governments for them to continue with the interventions at the end of the funding period. This will require a wide range of ministries, not just the ministries of health, to work together with other groups such as NGOs.
Agatha Aboe, Technical Advisor, Global Trachoma Programme, Sightsavers also praised DFID for this support and talked about the success of the Global Trachoma Mapping Programme in Ghana which highlighted the importance of data to identify all patients, and reach the last few with treatment. She said:
"The ASCEND programme has put in place strategies to ensure that no one is left behind in the treatment and overall management of these neglected tropical diseases which has led to immense suffering, stigma and poverty to those affected by them.

Its objective of strengthening the health systems to take care of people who may show up with any of the diseases even when the disease is no longer a public health problem will make an immense contribution towards universal health coverage in the countries that will benefit from this programme."
Sunday Isiyaku, Country Director for Sightsavers Nigeria and Ghana, who also spoke at the launch added:
"We now have a great opportunity to scale up treatment and begin demonstrating the elimination of these diseases after decades of treatments. With ASCEND it's the beginning of the end of NTDs in Nigeria and Ghana."
NTDs